Proud sponsors of Worldskills Ireland
Worldskills is a partnership between enterprise, industry, education, training and government that raises the profile and recognition of skills, apprenticeships and prepares the talent of today for the careers of the future.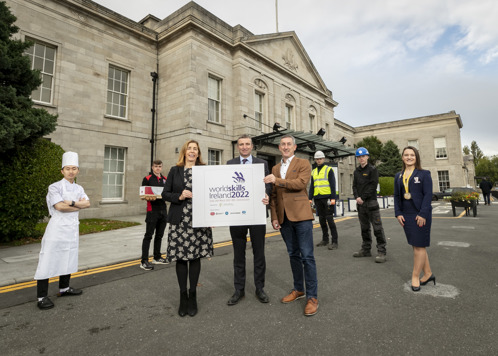 Symetri is an established and trusted advisor to many of Ireland's largest design, construction and manufacturing organisations, that offers a wide range of products and services based on the Autodesk solution platforms. Therefore, we are honoured to lend our experience and knowledge to inspire the next generation of skilled young people. Our vision is to inform, inspire & empower those who dare to innovate and we are thrilled to aid the youth of today with the ability to follow their passions so that they can ensure the success of their future.
Mechanical Engineering CAD competition
The Mechanical Engineering CAD Competition in WorldSkills is intended for those studying, training and/or working towards a relevant programme of study in 3D Computer Aided Design. Competitors can be in education, training or working in industry. This is an open competition, inclusive of training in a mechanical engineering working environment, specialising in CAD. Competitors should have a maximum of five years' experience, inclusive of training in a mechanical engineering working environment, specialising in CAD.
Manage Student Assignments in one place
Centralise and manage assignments and projects delivered by the students enrolled in your course.
View and Comment in Browser
Students can share a link to their design at the click of a button, and you can view and comment directly in your browser, on any device.
Any CAD in Fusion 360
Take models from other CAD programs, even in the original format, and use them directly in Fusion 360 to collaborate with your students.
Anywhere Access
Available on PC, Mac, and Chromebook with Android and iOS apps for anytime, anywhere access.
Mechanical 3D CAD 2022 Competitors

It was an ideal opportunity to challenge yourself and to show off your skills; both technical and mechanical, in learning a new, all-integrated CAD program (Fusion360).
It's honestly very rewarding when you apply yourself and work hard to get to where you are and even if like myself you don't win, it really helps in the long run, as I am now ahead of majority of my peers and am more skilled in relation to CAD than most others.
It was a fantastic experience. There is honestly nothing I would change.
I have no regrets for taking on such a challenge, have met incredible individuals, and am excited for anyone thinking of doing it themselves. I would easily and whole-heartedly recommend it to anyone with an interest in CAD and digital modelling.
I really didn't expect to be the winner, but I still went to that award ceremony smiling after the event. It was intense, but great fun, and the people I met and got to know over the course of the mentorship program made it all worthwhile.